---
The 

World Intellectual Property Organization (WIPO)

 is the global forum for intellectual property policy, services, information and cooperation:
A specialized agency of the United Nations, WIPO assists its 189 member states in developing a balanced international IP legal framework to meet society's evolving needs. It provides business services for obtaining IP rights in multiple countries and resolving disputes. It delivers capacity-building programs to help developing countries benefit from using IP. And it provides free access to unique knowledge banks of IP information.
Our mission is to lead the development of a balanced and effective international intellectual property (IP) system that enables innovation and creativity for the benefit of all. Our mandate, governing bodies and procedures are set out in the WIPO Convention, which established WIPO in 1967.
---
Quick facts
History: established in 1967 | Membership: 191 member states | Director General: Francis Gurry | Headquarters: Geneva, Switzerland
---

See below for the latest WIPO Jobs and career opportunities:
---
Women contribute to all fields of creativity and intellectual endeavors. Despite this, they remain underrepresented in many areas.
WIPO is committed to promoting gender equality and women's empowerment both within the Organization and in the wider world of intellectual property (IP).
From multiple Nobel Prize-winning scientist Marie Curie, to Stephanie Kwolek, inventor of Kevlar fiber used in bullet-proof vests; from filmmaker and two-time Academy Award winner Sharmeen Obaid-Chinoy, to art legend Frida Kahlo – women make vital and valued contributions across all fields of IP.
---
The challenge: gender gaps and insufficient data
Despite the general improvements in gender equality around the world, gender gaps in patenting, in particular, persist. While more women than men graduate from universities in many countries (OECD, 2015), patenting by women remains lower than, for example, their authorship of scientific papers.
For example, the share of women penning scientific publications in 2005 stood at 24.1% in the U.S.A. and 19.2% in Germany, yet women's share in patent applications for the same year was much lower at 8.2% in the U.S.A. and 4.9% in Germany (Frietsch et al., 2009).
Only limited data is available with which to measure women's contributions in other areas of intellectual property, such as trademarks and copyright. As such, more work is needed to ensure that both women and men can equally access and use the IP system and profit fully from their creative and innovative assets for economic, social, and cultural development.
---
WIPO Develops Cutting-Edge Translation Tool For Patent Documents
The PATENTSCOPE database provides access to international Patent Cooperation Treaty (PCT) applications in full text format on the day of publication, as well as to patent documents of participating national and regional patent offices. The information may be searched by entering keywords, names of applicants, international patent classification and many other search criteria in multiple languages. The database contains some 58 million records.
Video: DG Gurry on WIPO Translate
---
WIPO Translate now incorporates cutting-edge neural machine translation technology to render highly technical patent documents into a second language in a style and syntax that more closely mirrors common usage, out-performing other translation tools built on previous technologies.
WIPO has initially "trained" the new technology to translate Chinese, Japanese and Korean patent documents into English. Patent applications in those languages accounted for some 55% of worldwide filings in 20141. Users can already try out the Chinese-English translation facility on the public beta test platform.
"One of the aims of the patent system is to make technology available.  Language is a barrier to the universal achievement of that aim.  This breakthrough for WIPO Translate means that a vast, and ever-increasing, trove of patent documents will soon be more easily accessible to innovators who search these records for inspiration or technical know-how," said WIPO Director General Francis Gurry. "As part of a global trend, patent applications are increasingly being filed in East Asian languages, particularly in Chinese, and WIPO Translate helps ensure that state-of-the-art knowledge created in these languages is shared as widely and rapidly as possible."
---
Highly accurate
The high level of accuracy of the Chinese-English translation is the result of the training of the neural machine translation tool, which compared 60 million sentences from Chinese patent documents provided to WIPO's PATENTSCOPE database by the State Intellectual Property Office of the People's Republic of China with their  translations as filed at the United States Patent and Trademark Office.
---
Emerging technology
Neural machine translation is an emerging technology. It is based on huge neural network models that "learn" from previously translated sentences. The specificity of neural machine translation (compared to previous "phrase based" statistical methods) is that it produces more natural word order, with particular improvements seen in so-called distant language pairs, like Japanese-English or Chinese-English.
In a recent test, WIPO Translate's neural-based machine translation service substantially out-performed both the previous statistical-based model on distant language pairs, as well as other non-WIPO translation services. Since this WIPO tool is trained and focused uniquely on patent documents, instead of a more-disparate array of texts, it gives higher-quality renderings.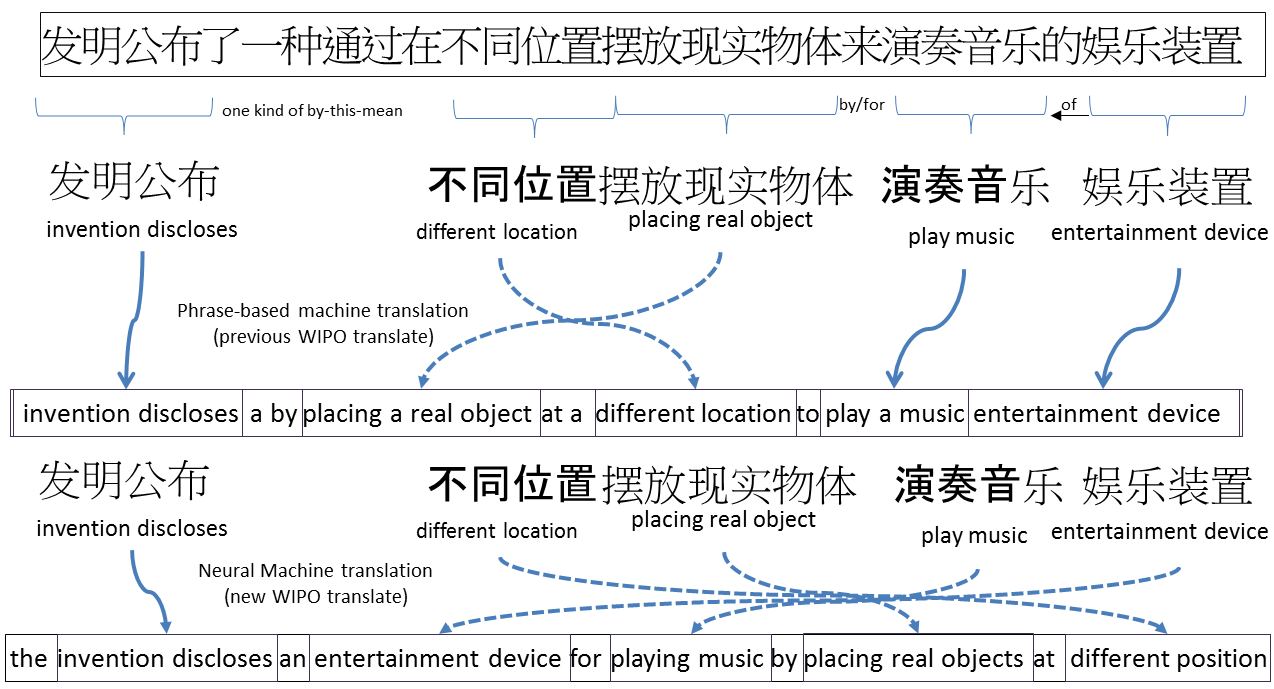 WIPO created its own software, based on open-source software and libraries (Nematus – Theano, AmuNMT), and capitalized on in-house expertise in handling large datasets.
---
WIPO Careers
Pursuing a career at WIPO means being part of a unique United Nations agency dedicated to making intellectual property work for innovation and creativity.
Our staff work in multi-disciplinary, multi-cultural teams in a stimulating international setting. We work with governments, intellectual property (IP) practitioners, civil society and the private sector to administer global IP services, develop international law and standards, set up collaborative networks, and build capacity in the use of IP for development. The majority of staff positions are based at our Geneva headquarters.
---
Contract types
There are two types of contract for staff positions:
Fixed-term: Usually granted for an initial period of one-two years, and may be extended further subject to business needs and individual performance.
Temporary: Granted for a period of up to one year, and may be extended to a cumulative length of two years.
---
Categories of staff position
Regardless of contract type, staff roles fall into three categories: Directors (D), Professional (P) staff and General Service (G) staff, each with their own grading structure.
---
Professional staff and Directors
Professional staff and directors are recruited internationally for roles which require a high level of professional knowledge, functional skills and management ability.
General service staff
General service staff provide our essential administrative and technical support, and are normally recruited locally.
National Professional Officers
National Professional Officers are locally-recruited staff serving at a non-headquarters duty station. They perform professional functions requiring local expertise.
Benefits
WIPO aims to be an employer of choice, offering competitive conditions of service, a rewarding work environment, opportunities for professional development, and a family-friendly, work-life balance.
Remuneration
Remuneration in the Professional and Director categories is made up of two main elements: the base salary, plus the post adjustment element which varies according to the cost of living in the country where the job is based. The post adjustment is added to the base salary in order to provide equivalent living standards at different locations.
The salary scale for professional and director categories (PDF) comprises five Professional levels (P-1 to P-5) and two Director levels (D1 and D2). These scales are applied worldwide by all organizations in the United Nations Common System.
Staff in the General Service category are recruited locally and paid according to the local salary scale (PDF).
Other benefits
Staff are eligible for 30 days of annual leave per year on a full-time basis (or the pro-rata equivalent). They are covered by the United Nations Joint Staff Pension Scheme, and by worldwide medical and dental insurance.
Other benefits, which vary according to category and level, may include:
Dependency allowance
Education grant for schools and first-level university education
(up to 75% of expenses)
Home leave for staff member and dependents
Life insurance
Maternity/paternity/adoption leave
Travel and removal expenses, and an appointment grant
Rental subsidy
Applying for a staff position
WIPO seeks to recruit staff from a wide range of backgrounds, and with diverse experience, languages and expertise.  We are committed to matching the best candidate to each role through a thorough review of all applications. Our recruitment process can therefore be lengthy as it involves several steps, usually including pre-screening, a written test, and a final interview with the Appointment Board. On average, it takes about 19 weeks between publication time and the final decision.
---
WIPO COMPETENCIES
Competencies are a combination of skills, attributes and behaviours which are essential for all staff.
Our recruitment principles
For each post we seek to appoint the strongest candidate, who will meet the highest standards of efficiency, competence and integrity.
We select on the strength of candidates' qualifications, experience and demonstrated competences for the job.
We seek to recruit staff from as wide a geographical basis as possible.
We are an equal opportunities employer and welcome applications from all candidates who meet the minimum requirements, irrespective of gender, racial, ethnic or social origin, color, religion, belief, or sexual orientation.
We are committed to achieving gender balance at all levels of the Organization.
Tips for applicants
Understand the requirements of the position you are interested in, and only apply if you meet them all.
If you are invited for an interview, come prepared. Familiarize yourself with the work of WIPO and the position you are applying for.
Be ready to share concrete examples and situations from your previous professional experiences that illustrate your ability to perform the duties of the job you are applying for.
Make sure to familiarize yourself with the WIPO competencies.
---
World Intellectual Property Organization (WIPO)
Company Statistics
Date Established
Member States
Headquarters