January 10 2014
by Editorial - admin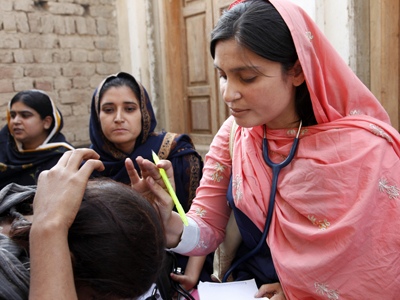 Much of international development is project-based. Whether you are an independent consultant moving from assignment to assignment or in a full-time position where your time is divided between multiple initiatives, a common career history of a global development professional includes a long list of projects.
So how do you show the depth of your experience in a traditional CV format without overwhelming the reader? That is what one Devex member wanted to know this week. He asked:
"While [in my previous position] I started 78 individual new business and employment projects. That would be several CV pages right there. But these projects were for key initiatives like providing employment for youth and/or women, empowerment, microfinance, large-scale new farming techniques – the kinds of projects it seems potential employers might want to know about. How do I include this experience in a CV?"
Here are 7 tips for incorporating multiple projects and/or consultancies into your CV while still keeping it at a digestible length.
1. Create a long version of your CV
Include all of your projects and assignments big and small, no matter the length. This could be 20 pages plus, which is OK. This won't be a CV you use to apply for positions. Instead, use it as your own database of assignments to pick and choose from to tailor a more concise version of the most relevant positions when applying to jobs. The up-front work will save you loads of time down the line.
2. Create a shorter, "highlights reel" version of your CV
This will be the CV you share when applying to jobs. Instead of including every single assignment, select those that most closely match the requirements of the position. Include a header noting that these are "selected assignments" so the recruiter knows this is not the full list. Recruiters like to read employment history in reverse-chronological format so avoid grouping by sector or function. This will make them think you have something – like a long employment gap – to hide. So while you want to show the most relevant work, also be sure to avoid any date gaps in the assignments you choose.
3. Utilize your employment history section
If you held a full-time position but worked on many different projects, describe the number and kinds of projects you did for each position in your employment history section. Pick out the most relevant to the job you are applying as illustrative examples. Recruiters like to see achievements and results, so rather than listing the impact of each project, describe the overall impact you created. It is also OK to list multiple entries under one employment record if your time with one organization was spent working on vastly different initiatives.
4. Don't forget to include your work as an independent consultant
If you work as an independent consultant, list "independent consultant" (and the company/organization name if you have one) as you would a traditional full-time position. Be sure to include the date range. Below, you can list "selected projects" as suggested above. By displaying your experience this way, you also get around the appearance of employment gaps.
5. Give details
When describing your various projects, recruiters will want to know the following: How big was the budget? How long was the project? Who was the donor? Who were your partners? What country? What was the project name?
6. Let recruiters know you also have a long version of your CV
You can include this as a small line at the bottom of your shorter version by saying something like, "long version of CV including all previous projects available upon request." In international development, recruiters often like to see a lot of detail, but overwhelming them with too much at once could scare them off. However, if they like what they see in the shorter version, they may want to follow up with the full list. This can especially be the case in proposal recruiting when the business development team may want to help reformat your CV to the requirements of the RFP.
7. Put a "summary of experience" or "key qualifications" section at the top of your resume
Here, you can highlight your most relevant work plus give a quantitative and qualitative summary of your employment experience without listing every single assignment. For example, you could say, "led the creation of 78 new business and development projects providing employment for youth and/or women, empowerment, microfinance and large- scale new farming techniques impacting X people in Y regions." You can also summarize your experience by function or sector in this section as long as you detail this experience in reverse-chronological format below.
If you have a questions about managing your career in global development, please tweet me @DevexCareers.
From Devex